SiCura – Sustainable technologies for the seismic protection of cultural heritage – Regione Lazio 2018 – 2020
Overview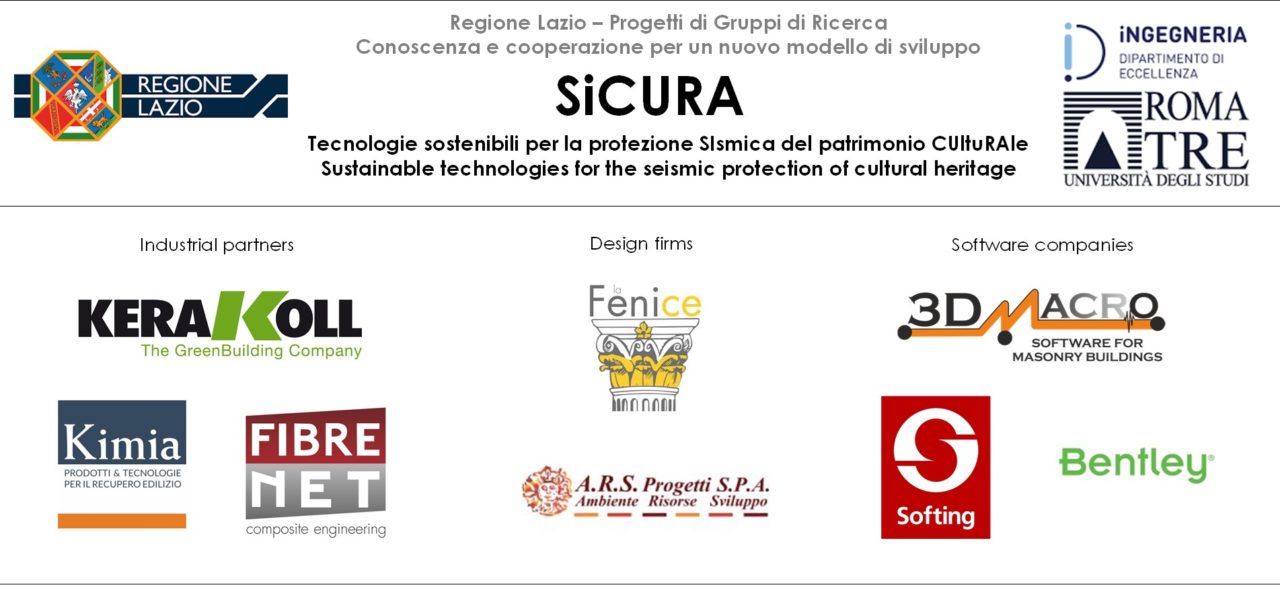 Overview
The recent seismic events in central Italy have shown the vulnerability of historical buildings and the necessity to implement preventive actions to safeguard buildings and human lives. This project proposes sustainable technologies for the seismic protection of architectural heritage, using high strength textiles embedded into inorganic (mortar) matrices, named as Textile Reinforced Mortar – (TRM).
TRM systems have been recently introduced in the market and are able to contrast the onset of seismic collapse mechanisms without increasing the original mass of the structure. They can be used in the ordinary maintenance works on the facades, without the need to evacuate the building. The use of lime mortars meets the conservation requirements in terms of reversibility and physical-chemical compatibility with the substrate. The use of natural fabrics limits the impact on the environment and the application using thermal insulating mortars could satisfy the demand for improvement of energy efficiency in addition to seismic retrofitting.
This project aims to contribute to the improvement the scientific knowledge and technological development of TRM systems,  to their transfer to industrial production and to design practice through the following actions: (i) development of adequate TRM systems for applications to historical buildings, in terms of fabrics and matrices; (ii) determination of mechanical properties with regard to tensile behaviour, adhesion to substrate and durability; (iii) definition of the types of intervention and appropriate design criteria; (iv) development of numerical methods and analysis tools for the assessment of structures reinforced with TRM systems; (v) definition of the application methods and installation protocols; (vi) validation of the effectiveness of reinforcement systems, through experimental tests in situ and in the laboratory on the shaking table.
Consortium
Roma Tre University, Department of Engineering (Coordinator of the project)
Kerakoll SpA (Industrial partner)
Fibre Net SpA (Industrial partner)
Kimia SpA (Industrial partner)
Gruppo Sismica srl (Software company)
Softing srl (Software company)
Bentley Systems (Software company)
la Fenice srl (Design Firm)
R.S. Progetti SpA (Design Firm)
Saiva srl (Construction enterprise)
Main information
Duration: 2 years, from June 2018 to August 2020
Total cost: ca. 150,000 euros,
Grant: L.R. 13/2008 – art. 7 Progetti di Gruppi di Ricerca Prot. 15136
Funded by: Regione Lazio